Southfork Ranch is a conference and event center located in Parker, Texas, U.S.; it contains the Ewing Mansion, which was the setting for the 1978 to 1991 television series Dallas and is the setting for the 2012 continuation of Dallas on TNT. The ranch is located at 3700 Hogge (pronounced "Hoag") Drive, Parker, Texas 75002.
More about the Ranch
Edit
Southfork ranch is the home of the Ewing family (formerly the Southworth family.) It was owned by Aaron Southworth until his death in 1959. After Aaron's death, Jock and his daughter Miss Ellie Ewing inherited Southfork where the Ewing family would live and raise there families there. After Jock's death, Miss Ellie married Clayton and they both owned the ranch. In later years, Miss Ellie and Clayton left Dallas and they gave the ranch to Bobby and he would own Southfork. In 1999, Clayton Farlow died after a heart attack. 2years later, Miss Ellie died and is buried at Southfork. Bobby promised her that he will never allow anyone to drill on Southfork especially his nephew, John Ross. Bobby married his third wife, Ann at Southfork in 2005. in the new Dallas series, Bobby tried to sell Southfork to a conservancy but J.R. secretly bought Southfork from under Bobby. J.R. eventually signed the deed back to Bobby.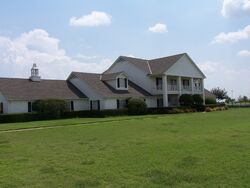 Southfork Ranch Owners
Edit
Southfork Ranch residents
Edit
External links
Edit