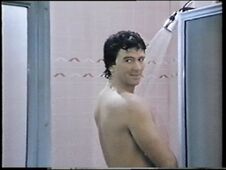 "The Dream Season" is a common nickname for the 9th season of Dallas, which ended with Bobby Ewing's return and the reveal that his death and all the events following it took place in Pamela's dream.
Due to Season 9 being a dream, all the events in the episodes are not canon to the other seasons.
Plot
[
]
The Ewings gather at Southfork to mourn Bobby. Cliff and Jamie try to comfort Pam, who blames herself for Bobby's death and frets one day Christopher will blame her as well. Miss Ellie decides to bury Bobby on a beautiful green hill overlooking Southfork near a tree house Jock built for him. Gary returns to Southfork and provides a shoulder for Ellie to lean on. Sue Ellen goes on a bender after J.R. insults her for not being there when Bobby said goodbye to everyone on his deathbed. Dusty wants to take care of Sue Ellen, and J.R. seems more than happy to get Sue Ellen out of his life. Pam tries her best to explain to Christopher what has happened, as J.R. does to John Ross as well. Ellie tries to explain to Sue Ellen that she is an alcoholic, and that Dusty cannot offer her the kind of help she needs. Dusty, however, takes extraordinary measures to stop one of her binges. Bobby's funeral is a small family event. Most of the family members move away and return to the house, leaving J.R. alone with the casket to say a personal and emotional final goodbye to his brother. However, a year later, it is revealed that the entire season (including Bobby's death from the finale of Season 8) was just a dream experienced by Pam. She wakes up and goes to the shower, only to find Bobby Ewing in it, who says "good morning!" to her.
Reception
[
]
The reception of the dream revelation was mixed. Some disliked Season 9 and were happy to see Bobby back in the show, others felt cheated and thought Bobby's revival cheapens his death and will lower the stakes for the remainder of the series.
The shower scene was also spoofed by Family Guy in the episode "Da Boom!".